This is Part 6 of our custom home building process guide. This guide was originally written by Susan Bady for newhomesource.com.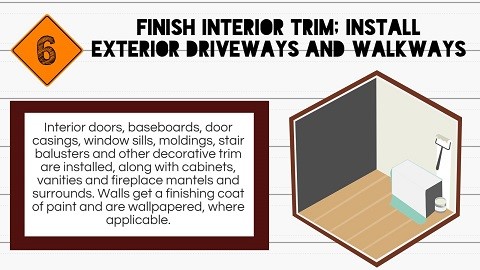 Finish interior trim; install exterior driveways and walkways: Interior doors, baseboards, door casings, window sills, moldings, stair balusters and other decorative trim are installed, along with cabinets, vanities and fireplace mantels and surrounds. Walls get a finish coat of paint and are wallpapered where applicable.
Generally, exterior driveways, walkways and patios are formed at this stage. Many builders prefer to wait until the end of the project before pouring the driveway because heavy equipment (such as a drywall delivery truck) can damage concrete. But some builders pour the driveway as soon as the foundation is completed so that when homeowners visit the construction site, they won't get their shoes muddy.